Stably Launches #USD as the First BRC20 Stablecoin on the Bitcoin Network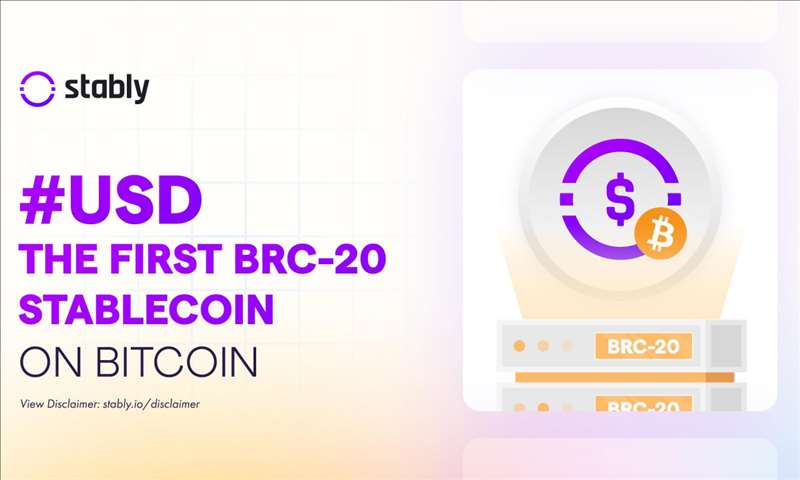 According to Stably, every #USD token is backed 1-to-1 with USD in a collateral account managed by a US-regulated custodian for the benefit of KYC/AML-verified token holders. Monthly reports for the account are also conducted by a third-party stablecoin attestor to ensure #USD tokens are always fully collateralized with USD.
Founded in 2018, the 20+ team member Seattle FinTech is backed by leading institutional and angel investors in the crypto space, such as Morgan Creek Capital, BEENEXT, 500 Startups, Hard Yaka, CREAM Labs, Sunny Lu of VeChain, and Paul Stahura of Donuts, Inc. The company has raised over $7.5-million in total funding to-date, $5-million of which was collected during its last Pre-Series A round in December 2021. Stably has also expanded its fiat on/off-ramp and stablecoin natively to more than ten emerging networks, including Arbitrum, XRP Ledger, Stellar, Tezos, VeChainThor, Harmony, Polymesh, Coreum, ICON, and Chia Network.
Stably is a Web3 payment infrastructure provider and FinCEN-registered MSB from Seattle. The company specializes in providing stablecoins and fiat <> crypto on and off-ramps to users of Web3 applications. Stably's mission is to power this decade's next billion Web3 users with regulatory-compliant payment infrastructure across both developed and emerging blockchain ecosystems.
Category: Science
Source: Next Big Future